December 2013: The Coolest Gifts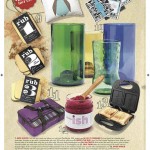 Break out the wrapping paper, folks! The gifts I'm giving this year are so cool, you might just want to snag a few of them for yourself!
Top off their holiday with this spicy gourmet condiment: fresh horseradish in zany flavors like beet, citrus and ginger.
$10 and up, premiumish.com